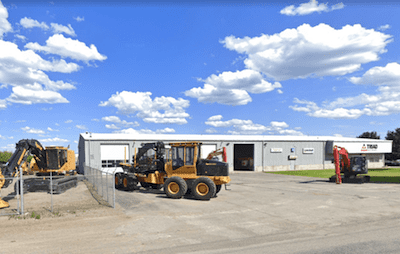 Located just off I-90 with easy access for heavy haul traffic, we're ideally situated to serve our forestry, construction, and crane clients in Washington, Oregon, Idaho, and Montana. As an authorized dealer of Link-Belt, Tigercat, T-Mar, and Waratah equipment, we are a full-service heavy machinery dealer.
In addition to selling new and used machinery, we also have rental equipment and a large service department to provide everything you need for an upcoming project. We've been in Spokane since 1992 and understand the needs of customers locally and beyond.
New/Used Machinery
We are proud to supply the local crane, forestry, and construction companies with equipment for sale. While we offer many Tigercat and T-Mar log loaders, feller bunchers, and skidders, we also specialize in Link-Belt cranes and Excavators (LBX) and Waratah equipment.
Interested in upgrading your existing equipment? We have a selection of used equipment as well. Our inventory is always changing, so if you are interested in a particular crane, excavator, or other equipment, give us a call.
Rental
As a general contractor or land-owner that only needs heavy machinery on a part-time basis, it makes sense to rent the equipment you need. Triad Machinery carries a wide selection of crane and construction machinery available for those purposes as well as other equipment. All of our machinery is maintained by factory-trained experts and can be delivered to your job site.
Service
Moving to our new location in 2017 allowed us to greatly expand our service department. We have four 80-foot drive-through service bays to service, maintain, or repair your heavy machinery. Equipped with a large hydraulic cylinder repair bench, 120-ton track press, and custom fabrication area, our mechanics are factory-trained to work on Link-Belt, Tigercat, T-Mar, and Waratah equipment. We also have crane specialists on staff.
We know how important it is to minimize any downtime. Triad Machinery's main goal is to keep our customers running in the field, so we have four fully-equipped field service trucks at our disposal. When your swing-yarder breaks down on the job site, Triad Machinery comes to you.
Parts
In addition to selling new and used equipment, Triad Machinery also has a large inventory of parts and accessories for forestry equipment, cranes, and excavators. We carry factory remanufactured components such as hydraulic pumps, final drives, and swing transmissions for both Link-Belt and Tigercat machinery.
We also stock a large inventory of undercarriage replacement parts for Link-Belt and Tigercat in addition to a variety of Waratah parts. Looking for hard to find parts or specialty accessories for other brands? Let us know what you need and we'll find it for you.
Whether you're in the market for a crane with multiple attachments or need an excavator for just a few weeks, Triad Machinery has you covered. As a leader in the Spokane area for heavy machinery, we make it our business to understand the marketplace.
Have a large project on the horizon in Washington, Oregon, Idaho, or Montana? Contact Triad Machinery in Spokane to see how we can help.