Triad Machinery opened for business nearly 30 years ago and has been in this location since 2002. Centrally located along the I-5 corridor in Northern Pierce County, we are positioned to help a wide variety of customers with a wide variety of equipment.
In the shadow of Mt. Rainier, we're able to serve construction and logging companies in Seattle, Tacoma, and other cities along the I5 corridor. We are an authorized dealer of several top brands, including Link-Belt & Tigercat Forestry Equipment, Link-Belt Cranes, and Link-Belt Excavators (LBX). We carry T-Mar Log-Champ Swing Yarders too.
In addition to selling new equipment, we sell used forestry, crane, and construction equipment as well. If you are interested in something specific, give us a call and we'll see what we have. Our used inventory is not limited to Link-Belt, Tigercat, T-Mar, and Waratah.
Rentals
In addition to sales, we also feature a large fleet of rental equipment. Need an excavator for a few months or a crane for an upcoming project? Call us first – we're sure to have the machines you need to meet your application. We'll even deliver the equipment, although you will need to provide your own experienced operators.
Service Department
The Seattle/Tacoma location has an experienced crew of factory-trained field technicians. Triad Machinery is able to repair, service, or maintain your equipment, whether you bought it from us or not. We have the specialty tooling to do the tough jobs and we're able to fix almost any piece of heavy machinery you have.
Parts Department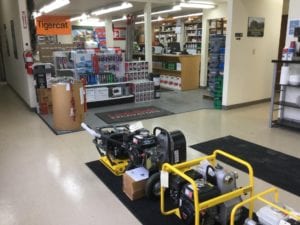 If it's a matter of simply needing a new part, Triad Machinery of Seattle/Tacoma carries parts for our major brands. Need a hard-to-find part? With our network of vendors, we're able to special order the parts you need to get your equipment up and running again. We'll even go to you and install it ourselves if you need us to.
Triad Machinery likes to be active in the community, participating in the Deming and Buckley Log Shows as well as take part in the Washington Contract Loggers Association and the Pacific Logging Congress. We have been awarded the LBX Triple Crown, a designation of excellence for authorized dealers. This means that our sales, parts, and customer support departments go above and beyond for our customers.
With our large inventory of machines, parts, and accessories, Triad Machinery strives to be the dealer of choice in the Pacific Northwest. Have a big project coming up? Reach out to the Seattle/Tacoma branch of Triad Machinery and see how we can help.