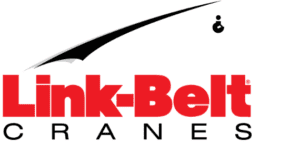 Link-Belt Cranes
Link-Belt Cranes, is a dynamic and highly-focused market leader in design, manufacture, and sales of telescopic and lattice boom cranes with world headquarters in Lexington, KY. Sitting on 104 acres and over 800,000 square feet under roof, Link-Belt Cranes is a fully equipped lean manufacturing facility surrounded by a focus in product quality. Link-Belt Cranes is not only focused on superior quality but environmental practices that have earned them the SC&RA environmental award in 2012 and 2018. They continue to make long-term commitments to the environment by continually collecting data and implementing practices that integrate employee involvement. Link-Belt Cranes continuously focus on improvements to design, manufacturing and quality standards, while facilitating employee empowerment.

LBX
LBX Company is located in Lexington, KY. LBX Company prides itself in being the maker of purpose-built excavators, material handling, and forestry equipment. The Link-Belt brand name dates back to 1874, with innovative designs for the forestry, scrap, demolition and material handling industries. Formerly a division of Link-Belt Construction Equipment Company, LBX Company became a stand-alone company in 1998. LBX Company provides the highest quality and best excavator product support in the industry. LBX Company is responsible for all Link-Belt earthmoving, forestry, demolition and material handling equipment throughout North and South America. LBX Company has a strong network of dealers that provide exceptional sales, parts, service and technical support to Link-Belt equipment owners.

Tigercat
Tigercat Industries, headquartered in Ontario, Canada operates from ten southern Ontario locations that house design and production teams for all Tigercat products. Tigercat specializes in design and manufacturing of tree harvesting and specialized machines for severe duty off road applications, while delivering processed wood to roadside at lower cost per ton. Tigercat timber harvesting systems optimize efficiently and productively, while providing operator ergonomics and being aware of environmental impacts during the machines lifespan. Tigercat forestry lines includes CTL systems (tree length and cut-to-length). Tigercat forestry has a full line of feller bunchers, skidders, loaders, loggers, harvesters, forwarders, along with felling and processing attachments. Tigercat is a customer driven company, thriving on continuous improvement in design and application for their customers in forestry and off road machinery.

T-Mar Industries
T-Mar Industries is based in British Columbia, Campbell River. T-Mar Industries began 1984 with a vision to develop a heavy equipment rebuild facility. T-Mar Industries quickly became a leader in logging equipment design, remanufacturing and parts supply for the Forestry, Hydroelectric, Mining and the Pulp and Paper Industries. In addition to their successful remanufacturing and repair business, they developed brand new highly successful products. Those products include Hydraulic and Cable Grapples, Rock Drills and their flagship LogChamp Swing Yarders. T-Mar Industries is dedicated to making their customers more competitive and efficient while providing higher reliability and superior customer support.