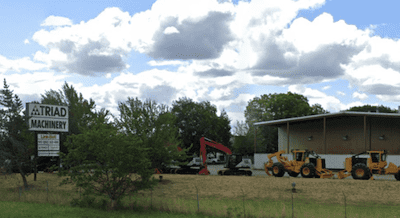 Established in 1992, the Eugene branch of Triad Machinery is known for its wide variety of forestry equipment and parts. Along with being an authorized dealer of Tigercat, Link-Belt, and T-Mar, we specialize in the processing segment of logging.
We carry a very broad inventory of Waratah parts as well as other manufacturers whose prime business is processing equipment. However, our Eugene branch is no stranger to the construction industry and supports excavators, cranes, and demolition with a large inventory of equipment and parts for all.
Our location just off I-5 at exit 199 gives us great access for customers all along the Willamette Valley and Southern Oregon, from the coastline to the west side of the Cascades.
New/Used Equipment
We are authorized dealers for Link-Belt cranes, excavators and forestry, Tigercat, T-Mar, and Waratah products. However, our used inventory contains many other brands as well. No matter if you need a Tigercat, Link-Belt, Komatsu, or Deere, come to Triad Machinery and we'll get you the equipment you need.
All of our equipment goes through a thorough inspection process before being delivered to the job site. This includes all new equipment or used machinery. Looking for something in particular? Reach out to Triad Machinery to see how we can help.
Rentals
In addition to selling new and used equipment, we also stock our yard with plenty of rental machinery. Whether you require a crane for an upcoming project or an excavator for a few months, please give us a call to supply your needs.
With a large inventory of rental excavators and cranes we are able to assist your particular application, whether it is an All-Terrain Crane or an Excavator outfitted with a Dozer Blade and Clean Out Bucket.
All rental equipment is thoroughly inspected before delivery.
Service Department
With five journeyman field technicians on staff in Eugene and well-equipped service trucks, you can be sure we'll be on your job if there is an issue with your equipment. Bring your equipment to our well-staffed shop for routine maintenance, welding, fabrication, hydraulic hose or par-flanged hard lines, attachment installs, troubleshooting/diagnostics and repair – whether you bought it from us or not.
Our service department is knowledgeable and factory-trained. Whether it be Tigercat, Link-Belt, T-Mar, Waratah or other, bring your maintenance and repair needs to Triad. We understand what downtime can do to a project, so we'll get you back on the job fast.
Parts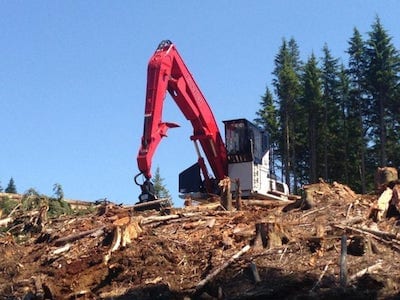 Whether you need undercarriage, hydraulic, electrical, engine or air conditioning parts for your equipment, Triad Machinery is an authorized dealer of Link-Belt, Tigercat, Waratah, and T-Mar parts. We are not limited to our core manufacturers – if we don't have the parts you need we'll track them down.
We also have many accessories for your forestry, construction or crane equipment. In addition to a large selection of OEM parts, we also have attachments, track/chains, seats, joystick control handles, and hot-saw teeth to name a few.
The Eugene branch is easy to get to, has great lowboy access, and in a relatively central location for our mid to southern Oregon customers. We offer fast turnaround times on service and maintenance. With more than 300 years of combined industry experience in Eugene, you can trust you'll get the forestry, construction, and crane equipment you need as well as any parts, accessories, and service required.
Have a major job coming up? Need to upgrade or trade-in your equipment? Need to rent machinery for a particularly difficult stretch of work? Contact Triad Machinery – we have the parts and accessories you need. Our forestry inventory can't be beaten and our customer service is second to none. We are intent on being the dealer of choice in the Pacific Northwest.