Link-Belt Cranes will introduce the never-before-seen 120|RT 120-ton (110-mt) rough terrain crane to the world at Bauma 2019 in Munich, Germany, booth number F903/3. Owners will appreciate their return on investment with this 120|RT for its true 120-ton lift chart and operating efficiencies, while operators will continue to reap the benefits of Link-Belt's continued crane design innovations providing greater efficiency and comfort.

 The 120|RT delivers outstanding reach with a six-section 38.3 – 164.1 ft. (11.6 – 50 m) pin and latch formed boom, built to Link-Belt's specific boom profile and tolerances at their Lexington, Kentucky, USA facility. An available two-piece [35 – 58 ft. (10.7 – 17.7 m)] on-board offsettable fly provides greater flexibility and range, and manually offsets at 0, 15, 30 and 45 degrees. One person fly erection technology minimizes work at height with ground controls for fly assist and boom hoist cylinders. Two 16 ft. (4.9 m) lattice insert extensions provide a maximum tip height of 261.7 ft. (79.8 m).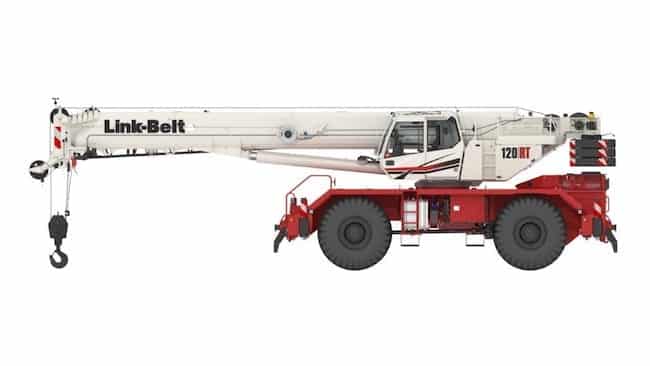 Carrier
The 120|RT's six-speed transmission is powered by a dual compliant Cummins Stage V/Tier IV QSB 6.7L 232 hp (173 kW), and also available is a Cummins Tier III QSB 6.7L 240 hp (179 kW) diesel engine. Four 29.5×25 tires mounted on axles affixed to the carrier via greaseless 4-link suspension, eliminating ten previous grease points.  Centralized electrical locations, remote mounted filters, and easy-access fluid checks make routine service a breeze.

A 24-volt electrical system makes running diagnostics quicker and easier. The wiring is a Controller Area Network (CAN bus) system. The 24-volt system yields the ability to multiplex with modules placed near dedicated functions like outrigger beams and winches. In total, there are five modules located throughout the machine that allow crane functions to continue working in instances where other modules are being diagnosed or serviced.

Six points of access to the carrier deck are maintained with new ergonomic ladders, and regardless of slew angle, the operator has easy egress to the flat deck from the cab. The 120|RT exterior features all new durable textured paint, along with a new slip-resistant paint on the carrier deck to provide better footing for access and egress with flat deck and six points of access.

V-CALC – RT Simple
Link-Belt's V-CALC (Variable Confined Area Lifting Capacities) system features 81 different outrigger configurations with real time 360-degree charts. V-CALC has proven itself in general construction and infrastructure applications on the 75|RT. Once outriggers are set, the user-friendly Pulse 2.0 system indicates the crane's available capacity. The system then previews the operator's real time capacities given the crane's current configuration at the next five radiuses for a set boom angle.

Upon selection, Link-Belt Pulse 2.0 provides a live view of the working area with color-coded quadrants. If the chart exceeds capacity at a given slew angle, swing arrest will initiate five degrees prior – allowing the crane to come to a smooth stop.
 
Upper
High strength steel used in the upper frame accommodates a new winch design with ultra-wide drums for increased line pull at higher working layers. Maximum winch line pull of 23,632 lbs. (105.1 kN) provides a wider range of applications and contractor needs. Hydraulic outboard routings and wiring harness improvements offer form-fitted design, providing greater serviceability over the life of the crane. Three slabs of hydraulically removable upper counterweight totaling 28,800 lbs. (13.2-mt) is standard equipment.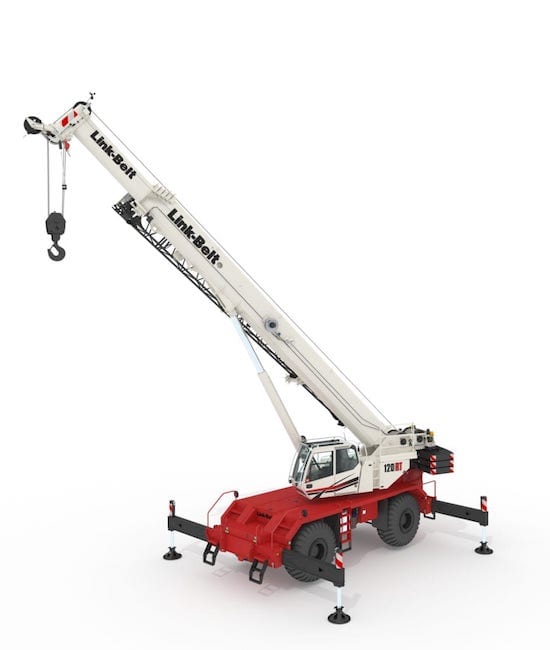 Cab
Introduced on the 75|RT in 2017, Link-Belt's new cab design for its rough terrain cranes has been well received in the field, both in terms of visibility, operator comfort and intuitive design. All electrical components coming into the cab are bulk headed for "plug and play" assembly.  Specific cab specifications include the following: 
20 degree tilt

Ergonomic seat with electronic joystick/single axis controllers

Automotive-type, high capacity HVAC system

Increased storage and interior lighting

Time delayed wipers

USB and 12-volt power supply connections

Van-style pop out door
 
Link-Belt Pulse 2.0
Based on ongoing operator and customer feedback, Link-Belt Pulse 2.0 provides a simple interface for crane operators with a large 10 in. (25.4 cm) touchscreen display, along with customizable programmable features. Link-Belt Pulse 2.0 can be updated and serviced remotely. Wi-Fi enabled, the system uses the serial number of the unit to determine if any updates are available, and download/installs to the appropriate controls.

Continuing a focus on work conditions, day or night
Link-Belt carefully considers the location of swing out engine access doors and centralized electrical locations – keeping them accessible from the ground or near a grab handle or ladder. Transmission oil, engine oil, primary and secondary fuel filters, as well as the engine oil filter are mounted for easy reach.

The 120|RT has been fitted with all the necessary tools to get the job done, any time of day:
Dual amber strobe lights

LED working lights

Outrigger lights

Work platforms on the upper with guardrails

Operator programmable function kick outs

Telematics in place to give real time data to better forecast maintenance and service needs of the crane.

Link-Belt's camera vision package on the 120|RT enhances on-board site monitoring and includes a back-up camera, as well as cameras for viewing winches and the right side of the upper.
 
Transport at under 100,000 lbs
The 120|RT will transport with base unit fully equipped minus modular counterweights at 94,472 lbs. (42 852 kg). With an overall height of 12 ft. 10 in. (3.91 m) this rough terrain can be driven right off a conventional lowboy trailer, assemble counterweight and be ready to go to work!