There will always be planning, permitting, bidding, and numerous other steps needing completion before a single shovel of dirt is dug. Once the construction equipment arrives, the work is just beginning. Minor missteps along the way can cost tens of thousands of dollars over the life of a project.
While technology cannot stop every miscalculation, Link-Belt Precision Grade can help minimize those errors. Fewer ground personnel and precise grade quality can save valuable time and money to help ease the pains associated with today's construction projects. Precise measuring also means fewer passes for the same amount of work.
Production is king on any construction site. Less time spent on tasks requiring an excavator means fewer man-hours, less fuel burn, decreased maintenance costs, and a healthier bottom line. Advances in construction equipment technology are helping our customers maintain a more balanced – and profitable – financial outlook.
Way More Than "The Cloud"
Construction outfits do this by utilizing the widely unknown machines circling the Earth 24 hours a day, 365 days a year. The Global Navigation Satellite System (GNSS) and a small group of sensors located on an excavator's body, boom, arm, and bucket linkage make short work of tedious work.
Tasks such as trenching, sloping, grading, and foundation preparation faster are much easier when given the right kinds of information. In today's post, we will talk about 2D Grade Control or as we call it, Precision Grade. Precision Grade, made possible by Trimble Earthworks, is the simplest and most cost-effective option many dirt contractors choose when deciding to take the first step into Grade Control technology.
What is Precision Grade?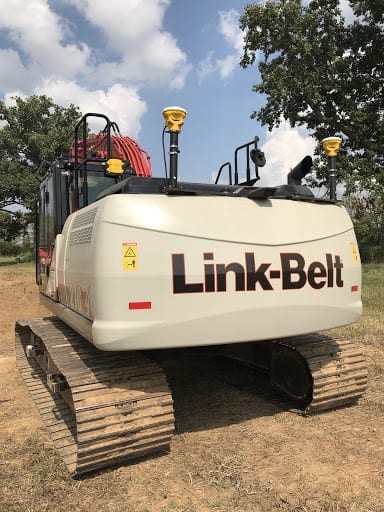 Precision Grade is the base option when considering Grade Control on a Link-Belt excavator. Precision Grade utilizes four machine sensors, an in-cab display, and the option to add a laser catcher and/or automatics. Precision Grade requires no GPS signal or GPS hardware.
Precision Grade is a 2D Grade Control system allowing the operator to finish grade, trench, with or without slope, and perform basic profile work. The addition of a laser catcher allows the operator to quickly move from one point on the job site to another minimizing the need to reference the bucket.
The last point to consider is machine guidance or machine control? With machine guidance, the operator solely responsible for maintaining the bucket edge profile with the required grade. The operator will use their skills to match the cutting edge to the required grade as seen on the Precision Grade in-cab display.
The option to add machine control takes away any error induced by an operator. The Precision Grade system will command an electric over hydraulic valve which will actuate the excavator hydraulic spools as needed to maintain the grade profile. If needed, the operator can at any time release the auto mode control switch, giving instantaneous control back to the operator.
As stated above, Precision Grade is the base option installed on a Link-Belt excavator when considering Grade Control. Next time we will talk about the options needed to upgrade a Precision Grade based Link-Belt excavator to a full 3D Grade Control excavator utilizing the GNSS network, a base station, and a rover!
Work With The Experts
Triad Machinery is an authorized dealer of LBX heavy machinery in the Pacific Northwest. We have six locations throughout Washington and Oregon, ready to answer any questions you may have about the LBX Precision Guide 2D machine guidance or control systems mentioned above.
Used Machinery
Currently, have an older piece of LBX equipment? Many of the grade assist or control systems can be used as an aftermarket solution. In addition to Link-Belt, 2D and 3D systems can be added to John Deer and Cat Grade Excavators and other construction equipment.
As the construction industry continues to grow, these auto-grading components will help with residential, industrial, and commercial property construction. By cutting down on operating expenses and improving efficiency and productivity, you'll be able to stay on schedule and meet your deadlines with ease.
Parts and Attachments
In addition to new and used machinery outfitted with auto-grading, Triad Machinery offers a wide array of parts and attachments for LBX excavators as well as Link-Belt bulldozers and Forestry Machinery. Need something for your John Deere or Cat heavy machinery? Ask us – we just might be able to help. And if we can't, we'll track it down for you.
Service Departments
Having issues with an excavator, crane, or your forestry equipment? Give our service department a call and let us know what's wrong. Depending on the problem, we will send a fully-outfitted truck to you in the field. Our factory-trained technicians will get you back up and running as soon as possible.
Need to bring a piece of heavy equipment in? Many of our branches have enlarged bays to work on your machinery and out of the elements. Experienced with all manners of machinery and brands, we'll diagnose the problem and offer recommendations. Or maybe your machinery is just a few quarts low on hydraulic fluid. We have that, too.
So no matter where you are, get in touch with one of our regional branches to see how we can help. We look forward to working with you.