Think you might be the best log loader in the Pacific Northwest? Sign up and compete head-to -head at the Oregon Logging Conference's 13th Annual Log Loader competition, presented by Triad Machinery and Link-Belt Forestry.
Registration is open now, hit this link to start the sign-up process.
About The Log Loader Competition
Since 2010, the best loggers in the Pacific Northwest have come to test their skills and square off, by using a log loader to stack blocks in a sequence. Each competitor goes through a run of stacking 9 blocks, and the logger that stacks their blocks the fastest is declared the winner!
WHERE: The Oregon Logging Conference, at the Lane Events Center in Eugene, OR
WHEN: February 24, 2023, from 11:30 AM-3:30 PM
Competitors can expect a fired-up crowd of fellow loggers and OLC attendees, as well as friends and fans of the forestry business. Want to learn more about the event? Click this link to see the Log Loader contest in action!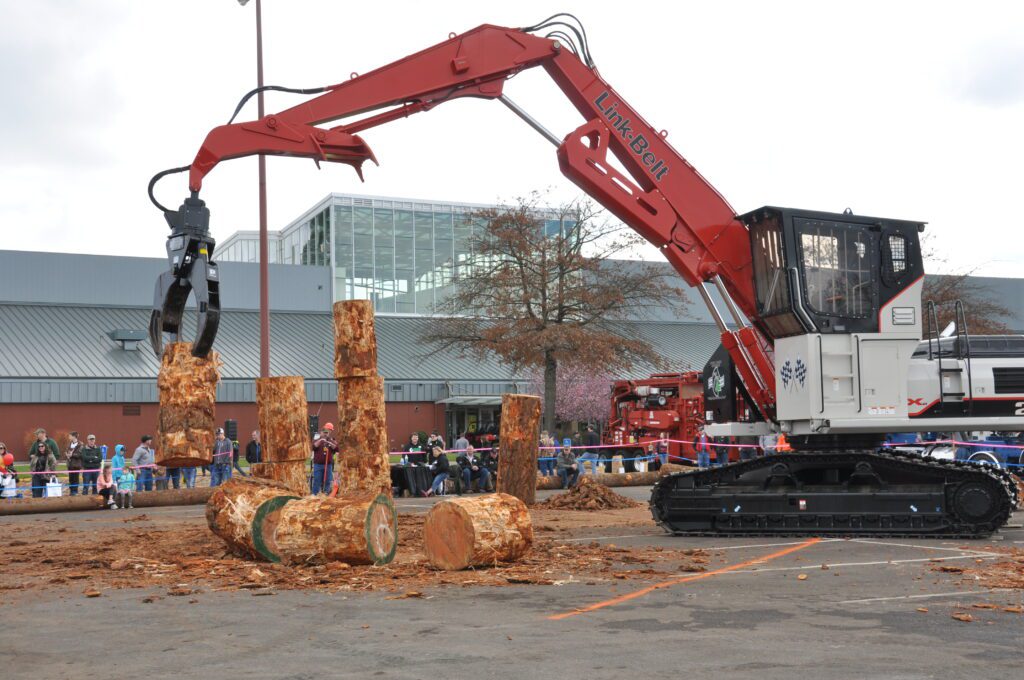 Competition Rules
For each participant, the competition starts with 9 wood blocks scattered randomly on the ground. The Heeling Rack of the machine will be at a predetermined Start / Stop location.
The Event Official will signal the to begin the run. The objective is to stack the blocks end to end starting at three predetermined marks on the ground, matching numbers or colors. Each stack of blocks when complete will be three blocks high with colors and numbers matched. Colors and numbers not matching will result in a disqualification of that competitor. Each stack must be completed prior to starting another stack.
Each Stack must remain standing for 5 seconds after the heeling rack contacts the Stop / Start point, signaling completion of the event run. All three stacks must remain standing for the 5 seconds or that competitor will be disqualified. The logger with the fastest run time wins!
The annual OLC Log Loader Competition will take place on February 24, 2023, from 11:30 AM-3:30 PM. We hope to see you there, as a competitor or a spectator!