Many construction jobsites are now taking advantage of grade control systems, a technology that makes the grading process both simpler and more accurate. 
Overview On Grade Control
Jobsite grading is a crucial first step in preparing land for development, as it plays a critical role in laying out a mapped overview of the site that can be used throughout a project. 
When grading a jobsite, grade control systems utilize a field computer and antenna to read GPS data on the site, like elevations, contours, and positioning information. This system reduces margin for error and can boost the speed at which a site grade is completed.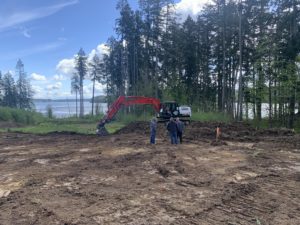 An LBX Company 210X4, equipped with a
Trimble
™
2DMC Grade Control system
How Grade Control Can Help Your Projects
From road building, to site work, to contour grading or any other surface grading, Grade Control can streamline projects, making them faster, easier, and less expensive. 
Grade Control can nearly eliminate grade stakes and provide unmatched material control capability. And with a focus on ease-of-use, grade control systems offer intuitive user interfaces; That means operators can cut down time spent on training, setup and troubleshooting. Ease and precision are the focal points of this technology, so you can save time and money on a site. 
Pick The Grade Control System That's Right For You 
There are a number of different Grade Control systems and features on the market today. Here are some of the choices prospective Grade Control users have: 
-2D vs 3D Grade Control systems (2D systems are simpler, 3D systems are more advanced) 
-How Grade Control will guide, control or otherwise integrate with your machine
-The brand of Grade Control system: TopCon and Trimble are two of the leading manufacturers
Fortunately, Triad Machinery's team has copious experience working on both TopCon and Trimble Grade Control systems, and can work with a wide variety of configurations and integrations. Our staff has the knowledge and background to help you select and set up the Grade Control system that fits your needs. 
Interested in purchasing or renting a Grade Control system?. Contact the Triad location near you to learn more about how Grade Control could upgrade your construction projects.