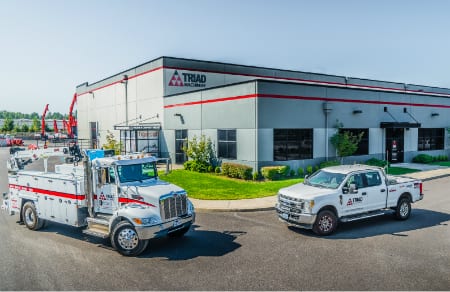 Moving to this location in 2014, the Portland branch of Triad Machinery has quickly established itself as the go-to shop for Cranes, Construction, and Forestry machinery. With a larger shop, working area, and warehouse, we're able to serve a wide variety of customers and service more equipment.
Located just south of the Columbia River, we serve the Portland metro area, including Hillsboro, Beaverton, and Clark County. But we're close enough to work with our Construction and Forestry clients in the Coast Range as well. Looking for new Link-Belt or Tigercat equipment? High quality used equipment from many different manufacturers? Service and parts support for Link-Belt cranes or Tigercat equipment? Triad Machinery has what you need when you need it.
New/Used Machinery
The Portland branch of Triad Machinery is an authorized dealer of Link-Belt cranes, Link-Belt excavators (LBX), and forestry equipment. We also sell and support the Tigercat line of forestry equipment and T-Mar Log Champ swing yarders as well. In addition to new machinery, we also have a range of used equipment.
Looking for something in particular or want to upgrade your equipment? Let us know and we'll see how we can help. Although Link-Belt, Tiger Cat, T-Mar, and Waratah are our main brands, we have many high-quality trade-ins from other brands as well. We're able to do this because our service department has the experience to work on an array of heavy machinery, small or large.
Rentals
Are you a general contractor that needs some heavy equipment for a major Construction or Forestry project? Triad Machinery of Portland has the machinery you'll need to get the job done right and on time. We'll also deliver the equipment to you, whether it's on the busy streets of downtown Portland or in the Oregon Coast range.
Service
Factory-trained to work on all Link-Belt, Tigercat, T-Mar, and Waratah equipment, our service department also works on many other brands as well. We have the experience to perform maintenance on your track-based forestry equipment, service your excavator, or repair your crane. And Triad will even come to you in the field for emergency fixes.
Many of our clients choose us because of our experience working with all makes and models of cranes. Because of seemingly non-stop construction, cranes are in need of constant maintenance and our service crews are up to the task.
Parts
As a full-service Construction and Forestry company, we also offer parts and accessories for all of our brands, including Link-Belt excavators, Link-Belt cranes, Tigercat, T-Mar, and Waratah. Looking for a hard to find part for your Kubota? We'll track it down for you.
Looking to make your machine as versatile as possible? We have the buckets, material handlers, and other attachments to complete your equipment. Triad Machinery in Portland has a wide variety of crane accessories and attachments to make sure your crane can handle any situation.
With easy access to both I-5 and I-205, we're easy to find and have fast access to the Columbia River Gorge. Our employees have grown up in the industry and live in the areas we serve. Whether you want to get to us or need us to get to you, our service and parts department are ready to help. We specialize in excavators and track-based logging equipment so we can be the best at what we do.